The following has been copied (with permission) from the Official International site of Angelic Reiki
What is Angelic Reiki?
It is the absolute joy of working hand in hand with the Angelic Kingdom of Light to bring one of the highest forms of healing to individuals, groups and the planet. Angels are beings who exist outside the different dimensions as we know them. They are the Master Programmers of the Main Programme we know as THE UNIVERSE. Throughout their guidance, and the healing art of Angelic Reiki, we can positively influence the creative energy systems of any individual or group, according to Divine Will. This could be on a physical, emotional or mental level. At this momentous time in the history of Humanity and the Earth, issues are surfacing to be cleared that have their roots deep in the past. We carry the imprints of these at a cellular level and they are often worked out through many incarnations, on this and on other planets. These issues are available to be cleared now, through the ability of the Angels to transcend time and space as we know it. As a healer willing to work with the Angels in this way, you offer a great and wonderful service to all, and yourselves. We have been initiated into Reiki Mastership in both the Usui and Shamballa lineages. The power of these two lineages, which is the combined healing power of all the Masters of each of these lineages, is now combined with the Angelic Vibration through Archangel Metatron and Kevin Core's The founder of Angelic Reiki's own spiritual lineage to create Angelic Reiki.
My personal experience of Angelic Reiki
Alison Wynne-Ryder - Angelic Reiki Master Teacher ES M 1013
At my 1st & 2nd Degree class I didn't know much about Angelic Reiki other than I'd received a couple of wonderful Angelic Reiki healing sessions and I had been guided by the Angels to take part in what I knew would be a divine experience, and one that would take me on a journey that would resonate with me for the rest of my life. The following is an extract from my book 'The Quirky Medium'.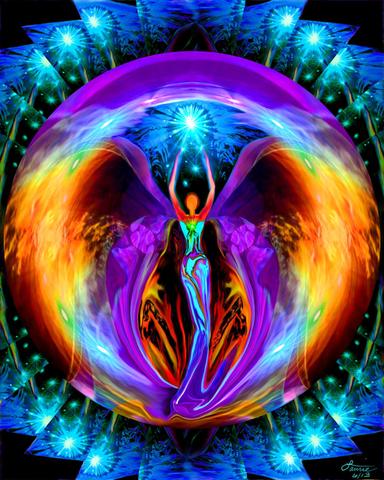 I would like to share with you some extracts from my Journal, starting with an Angelic Reiki course early in July, 2011. During the first day we received attunements and initiations direct from the angelic kingdom of light. We learned that we are channels for the beautiful pure angelic healing to be transferred to the recipient and that Angelic Reiki gives us support through the ascension process. During one of our sessions I saw a beautiful lady who wore an iridescent gown of white and pale blue. She went round to each of us in turn and put something small and white into each of our hands. At first I thought they were very small crystals, but they were perfectly round. I described her to our teacher Parveen and I said that in the corner of the room I could see a dragon. I really didn't want to say this at first in case the rest of the class thought I was mad but the image wouldn't go away! Parveen told us that the lady I had seen is the ascended master Quan Yin, who is the goddess of compassion and mercy and one of the 'Lords of Karma'. She is of the pearlescent white ray. She developed the eighth chakra, also associated with the pearl. So the small white objects that Quan Yin had given to us were pearls! Apparently she is often depicted as riding a dragon which is an ancient symbol for wisdom, strength, and divine powers of transformation. Wow doesn't even begin to cover it! On the second day we did practical sessions of healing on each other and it was truly wonderful. I kept smelling the distinct scent of roses and remember asking Parveen if she was burning rose oil in the oil burner. She said she wasn't but understood why I could smell roses. She said that she would explain later on. We learned more on the third day about the ascended masters and the information blew my mind. Parveen explained that Lady Nada's symbol is the pink rose on Atlantis she served as a priestess in the Temple of Love. Imagine how humble I felt in knowing that both Quan Yin and Lady Nada were working with me on my life's path. I partnered up this morning in the healing session with the only gentleman on the course. I commenced my healing on him but this time we were asked to bring in the energies of the galactic healers of 100% light. Parveen had explained that these beautiful beings of pure light can show themselves to us in any form. They live amongst the stars in the galaxies and although we may not see them, we should be able to feel their powerful energy. I commenced the healing by calling forth my healing angel, who I now know is Leila. I then called on the ascended masters and could see Quan Yin to my right. I could also smell the beautiful scent of roses again, so I knew that Lady Nada was also present. When I called on the presence of the galactic healers I didn't see or feel anything at first but then all of a sudden I felt a strong shift of energy from my left and took my time turning to see who had joined us. To my utter surprise there was the most beautiful white-winged unicorn shimmering in a bright light, with a golden horn. I questioned this wondering if it was my imagination, but the unicorn turned its head to look at me. I saw his shocking blue eyes so vivid, wise and pure. He seemed to say, "Yes I really am here and it is not your imagination." He then bowed his head towards me and turned, taking flight and ascending up into the sky. I felt so humble and emotional after experiencing something so beautiful, especially when Parveen confirmed that it was one of the galactic healers showing himself to me in the form of a beautiful winged horse.
If you wish to become attuned to Angelic Reiki and work towards being a Professional Practitioner
The Angelic Kingdom is your guide to being the channels, the tools of the Hand of the Divine. Part of this knowledge, which we will give to you, is the system which is now know as Angelic Reiki. It is through this system that you will be trained to carry the energy of the Divine Mind. You will feel the very thrill of the Life Force flowing through you into your fellowmen. This life force has the power to change reality, as you know it. It is the blessed Breath of God. By being the channel of this energy, you will allow yourselves, your consciousness, to merge with the Divine.
If you wish to learn more about Angelic Reiki
Learn more: http://www.angelicreikimagic.com
IF YOU WOULD LIKE TO LEARN HOW TO BECOME PART OF THE ANGELIC REIKI FAMILY BY BEING ATTUNED BY THE ANGELS OF THE ANGELIC KINGDOM OF LIGHT, PLEASE CONTACT ALISON WITH YOUR NAME, COUNTRY OF RESIDENCE, AND YOUR E-MAIL ADDRESS TO This email address is being protected from spambots. You need JavaScript enabled to view it.. ALISON WILL CONTACT YOU WITH FURTHER INFORMATION.